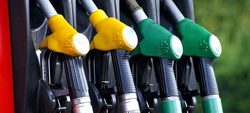 Free gas cards for low-income families.  Free gas vouchers.  Do you need temporary help with gas?  Are you unemployed, on disability,  low-income or receive government assistance? There are community organizations and charities that offer free gas cards, to low-income individuals who qualify financially.   Also, like Catholic Charities and the Salvation Army provide help with bills, counseling, job counseling, food and much more.  If you are having trouble getting to work because you don't have gas, check out the following organizations to seek if you qualify for free gas cards.  As will all assistance programs, funding is limited and there is a first come first served policy.
These Organizations Give Free Gas Cards & Vouchers for Low-Income
One of the organizations that give gas vouchers to qualified applicants is Gas for Help.  Gas for help will give your gas for displaying an ad magnet for specific companies, and drive at least 1000 miles a month.  You can earn from $17 to $80 a month, depending on what type of ad you choose to place on your vehicle. This is one of the organizations that has no income requirement to get help with gas cards.
This is another that provides free gas vouchers.  To receive help, you need to get a referral from a community organization, government agency or charity.  These organization will screen applicants to make sure they qualify financially.  When you distribute, you will receive a letter to take to an organization that will give you gas assistance in the form of a gas voucher.  The amount of your voucher varies depending on your needs such as work, school, going to the doctor for mandatory treatment, etc.
Catholic Charities is one of those local and international faith-based organization that provides bill assistance to needy families, individuals. They also have Christmas toys drive every year to provide gifts and toys to needy children.  Whether you live in North Carolina, Georgia, Texas, California, Puerto Rico, you can find assistance programs to meet your needs.  Also, Catholic Charities has 3,621 locations also include several countries outside the U.S.
They offer life-affirming, supportive services that help residents struggling, to care for themselves and their families.  If you need help with things like rent, utilities, clothing, immigration assistance.   If this organization is unable to help, ask for a coupon to another organization that can help.  They also offer disaster services, emergency financial assistance, emergency shelter, food pantry, and other nutritional services.
2-1-1 is the number you call to reach the United Way. 211 is a one-stop location to find financial and other assistance programs in your city, worldwide.  The United Way brings people together with much-needed support in their state. 211 can help you find,
Temporary shelter
Utility assistance
Addiction services
Re-entry programs for ex-convicts
Food pantries and food banks
Veteran support services
Free clinics and dental programs
Counseling and other mental health support. If you need emergency assistance and are low-income call 211 or find them online here.
Similarly, there is another organization that can help you get back on the road.  Many Goodwill Industry chapters have vehicle purchase program that allows qualified families the opportunity to purchase a reliable interest-free vehicle with low affordable payments.  Find out more here.
Faith-Based Organizations Help

Low-Income Families 
Religious organizations are a resource and support to impoverished communities.  These churches that help with bills are responsible for screening applicants to make sure that only those who need help get it.  These churches receive funding to be used to help disadvantaged families.  If you attend a church, talk to their financial department, to see if they have a program that helps with bills and other services.
Many churches do help low-income families with outstanding bills like rent, electric, water or gas.  Often when you back is up against the wall you have to pay a bill and pray you can find the money for gas to get back and forth to work.  Getting help with household bills can free up money you need for gas.
You May Also Want to Read