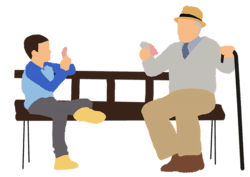 Grandparents Raising Grandchildren Resources. More than ever grandparents are raising grandkids because their children are unable to take care of their own children, because of addiction, incarceration, mental illness, death or other reasons. According to the United States Census Bureau, in 2014 more than 13 million children are living with their grandparents.
With the rise of the opioid epidemic, many parents are unable to properly care for their children because of addiction or incarceration. Often rather than have the kids taken by the state many grandparents step in to care for their grandchildren. Because it can be stressful, consider grandparents raising grandchildren support group in your area.
Grandparents Raising Grandchildren Resources
As of 2017, this number has skyrocketed due to the opiate addiction epidemic in America. Over 3 million grandparents are now responsible for the care and raising of their grandchildren. The average income of 35% of grandparents raising grandparents is less than $24,000. This adds to the pressure on families that may already be struggling financially. If you are a grandmother or grandfather caring for one or more grandchildren, know there are financial, medical and grandparents raising grandchildren resources available through government, charity and community organizations.
Grandparents Assistance Programs
It is recognized that with a little help from government and community programs can help maintain family stability. As grandparents step us to raise their grandchildren, this lessens the burden on an already stressed foster care system. Assistance programs help children to say within their own families, which is helpful in address separation anxiety and depression.
Assistance programs help children to say within their own families, which is helpful in address separation anxiety and depression experienced from the disruption of their home lives. Below are some of the benefits available to those grandparents and extended family member caring for kids. Below are some of the benefit programs available to help grandparents raising grandchildren.
Temporary Assistance for Needy Families (TANF)
Find out if you qualify for TANF or a cash benefit for the children. If you qualify you may be eligible for other benefits as well. If your income is above the US Poverty Guidelines you may be eligible for a "child-only grant" which covers the child/children only.
Guardianship Subsidies
Subsidized guardianship is guardianships awards financial assistance to legal guardians of children cared for by relatives. If they have been in foster care and you gain guardianship of them you may be able to receive subsidized guardianship. Contact your State Department of Social Services to see if you are eligible for grants or kinship care or a non-parent grant.
Supplemental Security Income (SSI)
SSI is a form of Social Security awarded to children with disabilities. SSI rules also cover children. Apply at the Social Security Administration office in your city.
Social Security Benefits
If your grandchild parents have died, your grandchild/children are eligible for survivor benefits to pay for the child's living expenses. Submit an application for them to receive Social Security Benefits.
Free Daycare
Your children may be eligible to get free or discount childcare services. Childcare will enable grandparent to continue to work. If your gross family income is at or below the Federal Poverty Guidelines you may be eligible for this help. Inquire at the local Department of Social Services. (more)
Children's Health Insurance Program (CHIP)
To get health care for the children you are caring for contact Medicaid check or the Children's Health Insurance Program (CHIP) in your state. http://insurekidsnow.gov/ or call 1-877-KIDS-NOW.
Does My Child Lose their Parental Rights?
No. You adult child still has their parental right in effect, but the child, children are in your custody. Guardianship suspendes parental rights until such time that the parent can prove to the court they can successfully care for the child/children.
What Are My Rights as A Guardian?
As a guardian apponted by the court, you make decisions you would make for a legal child. That would be enrollment in school, children's clubs, medical dedicsion, etc.
Other Resources