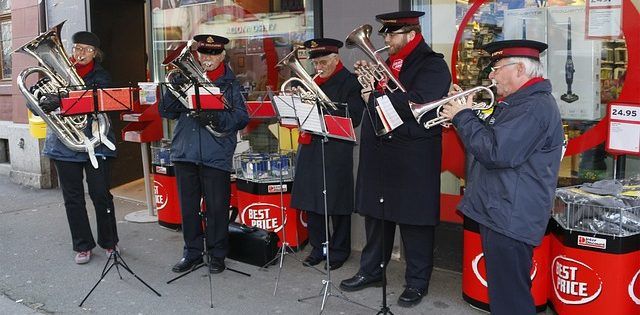 Salvation Army Christmas Assistance.  If you are looking for Christmas assistance, this year, the Salvation Army provides help to needy families, by providing, food, gifts, and toys for kids.  The Angel Tree makes a difference in the lives of low-income families.  As a parent or guardian, you want your child to experience Christmas as a time of family and a time of joy and wonderment.  Too many families, even working families cannot afford the extra experience of purchasing gifts and toys for the holiday.
It is sad to know that children all across America will wake up on Christmas morning to find they have received no toys of gifts.  When parents lose a job and need help paying rent, or utilities, of course, toys go to the bottom of the list.  Thank goodness for all the state and local charities and independent programs that make Christmas possible for those who live in poverty.  No child should be forgotten at during this time of the year.  NOTICE:  Please Contact these Agencies Immediately as many people are seeking help and toys and gifts are limited.
Salvation Army Christmas Assistance Programs
Angel Tree
You can help a child or family by donating to the Salvation Army Angel Tree Program.  They provide Christmas assistance and toys for children and gifts for teens and seniors and families in need. This program is run by the generous donations from groups, organizations, and caring people like you! Your donations help these precious children each year!
Where to Find an Angel Tree
If your organization would like to host an Angel, go online to the corporate site and fill out a registration form and return it before October 17.  Dates will vary in some states.  Specify how many people your organization would like to help and attend a training.
You will receive a kit, including Angel's tags for your tree.  Decorate your tree appropriately for Christmas with lots of Angels, and advertise the event by e-mails, posters and lunchroom bulletin boards.  You can choose to adopt an Angel to help this Christmas. They can also use your help as a volunteer to work the Secret Santa Warehouse.
JCPenny and Angel Tree
JCPenny is a great supporter of the Angel Tree Program. They have made it easy to make online donations to this program.  At Salvation Army website, you can create a giving group for your job, group or organization to adopt a group for Christmas giving to seniors, teen and, of course, children.
You can also locate a group or individual you have chosen to help with a donation. When purchasing a gift for Angel Tree from the site, you get free shipping. December 9th is the last day to donate a gift to an angel!   *Christmas Charities Get Help for Christmas.
Am I Eligible for Christmas Assistance?
Of course, each Christmas assistance program has different requirement to receive help, the basic requirement is your income. If you receive help from one of the many government assistance programs, such as Food Stamps, WIC, Medicaid, etc. you probably qualify to get help.
Question: Can I sign up for more than one Christmas assistance program?  These charities do not have one main database to determine who is registered for help.  You may, however, be asked if you have registered with other charities for help.  The reason for this is, they was to make sure every child or family that needs help get at least one gift.
Necessary Documentation to Receive Help
Proof of address (phone or utility bills, etc.)
Social Security card for each person requesting help
Proof of income, of documentation from the government assistance agency
How to Help a Charity
If you are looking for a charity to help this Christmas, you can sign with one of the Salvation Army registration locations in your city.  In order to be eligible to receive the help, you must meet the federal qualifications and minimum poverty guidelines.
If you have registered to become an Angel, you name, age, gender, clothing, and shoe sizes will be placed on a tag and hung on an Angel Tree located in a Mall, Company, Church or Organization.  Those who want to participate will choose a tag from the tree, purchase the gifts and return them to the Salvation Army to sort and distribute to the Angels.
Contact the Salvation Army
To locate help in your area go online and look up, "The Salvation Army" and the name of your city, or do a 411 operator request for the number.