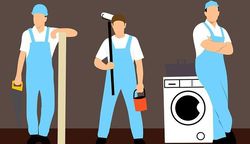 Home repair grants, provide free gov money, to qualified low-income homeowners.  These home improvement grants, help deserving homeowners, with much need assistance maintaining and repairing their homes.  The intent of the program is to improve energy conservation in the home, as well as maintain the safety and livability of the property.  Free government grants for home repair, help to keep already threatened communities intact.
Why Home Repair Grants
You may ask, why would the government offer home repair grants?  It is a matter of community preservation. Many wonderful low-income families, own homes but are unable to pay for expensive home repairs.  As a result, their property becomes is neglected and falls into disrepair.  Eventually, these homes become unsafe and ultimately abandoned.   Once a home is vacated, because it is unsafe for humans to inhabit, it soon attracts drugs, violence and a seedy element, which negatively affects the whole community.
What Type of Free Gov Money is Available?
There are many types of home repair grants, depending on where the state you live in. These government grants are not for those who want to remodel their homes, but make repairs to, fix a roof to keep the rain out, or repair a heater to keep a family warm, etc.
The Community Development Block Grant Program and Home Program
Contact U.S. Department of Housing and Urban Development and state and local government officials to find grants for free home repairs. This grant helps low to moderate-income homeowners who live in urban or city areas.
Provides home repair assistance for communities with a population of no more than 10,000 people. Finances are available to low-income rural residents and live in a property needing repair to make the home safe.
The Federal Emergency Management Agency
(FEMA)
It helps families who have experienced natural disasters and provides home remodeling grants repair damaged properties or provide temporary housing for displaced families.
This program helps to provide assistance to help disabled veterans, remodel their homes to make handicap accessible. By adding ramps, lifts and in general, anything that will help the veteran become more independent in his own home.
Other Helpful Resources
Government Programs for Low-Income Families
Type of Repairs
The Housing Repair and Rehabilitation Grant – 800-414-1226
Offers assistance of up to $7,500 for the purpose of rehabilitating your home. Finances are available to low-income rural residents and live in a property needing repair to make the home safe and inhabitable. This includes repairs such as:
• Removing lead paint
• Mold removal
• Water heating and furnace repairs
• Well and septic repairs
• Roof repair
• Weather damage
• Handicap accessible
• Storm Clean up
Finding Home Repair Grants
To find money to repair your home, contact the Veteran's Affairs, USDA Rural Development, HUD and The US Department of Housing and Urban development. You can also go to Go to USA.Gov to find a home repair grant for your city and state.  You must provide proof of income, unemployment, ownership or renting, to be considered for the program. Once you have been accepted, local agencies will come to your home to assess damage and work that needs to be done.
Title I Loans
Title I loans finance minor to moderate property repairs for homeowners, residential property owners or prospective property owners.  Loans can be acquired through HUD's approved lenders.  It is the lender's responsibility to check HUD's list of approved lender, on their HUD website.
This process will help you to avoid being scammed by dishonest or unqualified contractors.  HUD will guide you to approved lenders but does not deal with homeowners one on one.  Always do a background check on anyone who will be repaired you home, before applying for a Title I loan.
In order to qualify for a Loan:
You must have good credit.
You must have previously secured a mortgage or deed of trust for the property if the loan is more than $7,500.
The house must be already built and occupied for a period of 90 days prior to applying for the loan.